Return to Headlines
Students Love to Read at SJH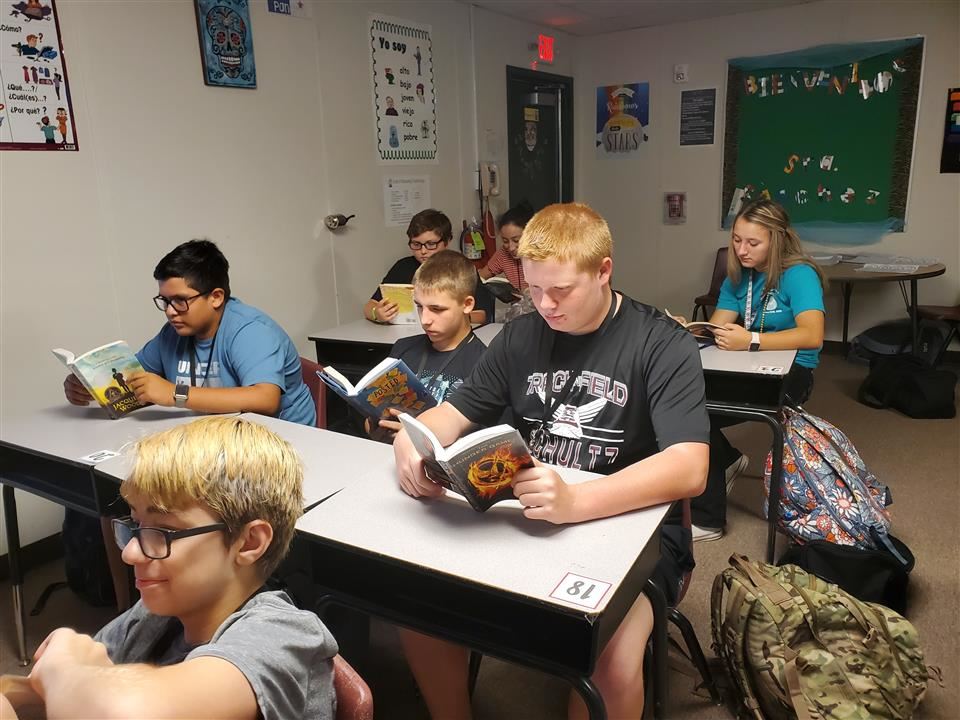 W.C. Schultz Junior High School (SJH) is looking to change the way students feel about reading. For the second year, SJH is continuing its Capsule Library Program. The idea is to take the library to students by putting together a small collection of books to take into classrooms. A crate filled with books is delivered to any teacher who requests a capsule. Classrooms can keep the books for the whole year or trade with other classes.
The idea to create the capsules was first introduced during a professional development meeting. SJH was looking to boost literacy in core and elective classes and teachers discussed building classroom libraries. English Language Arts (ELA) Teacher Melynda Jones was asked to lead the program. The capsules were first started using books SJH already had. As the interest in the capsules has grown, additional books were purchased.
Jones works hard to ensure the libraries are built with student and teacher interests in mind. Being an avid reader, she stays current on middle-grade and young adult literature to help her choose books for the capsules. Jones follows authors and literacy leaders on social media and talks to students about the books and genres that interest them. Her personal classroom library currently holds over 1,000 books. The capsules are also tailored to fit the classroom they are placed, such as military-themed books in History and body-positive books in Dance.
"Bottom line, the more books a student sees during the day, the more likely they are to read," Jones said.
To help Jones, a group of SJH teachers volunteered to update and distribute the capsules. Each library capsule is made up of 22-25 hardcover or paperback books. This year, SJH had more teachers request for capsules than they had supplies. Along with teachers, students have also had a positive reaction to the capsules. On the first day of having the libraries in the classroom, students were eager to explore and begin reading, and wanting to take books home to finish.
"The capsule libraries are just the beginning," Jones said. "SJH has lots of ideas of how to bring great literature into the hands of our students!"