Return to Headlines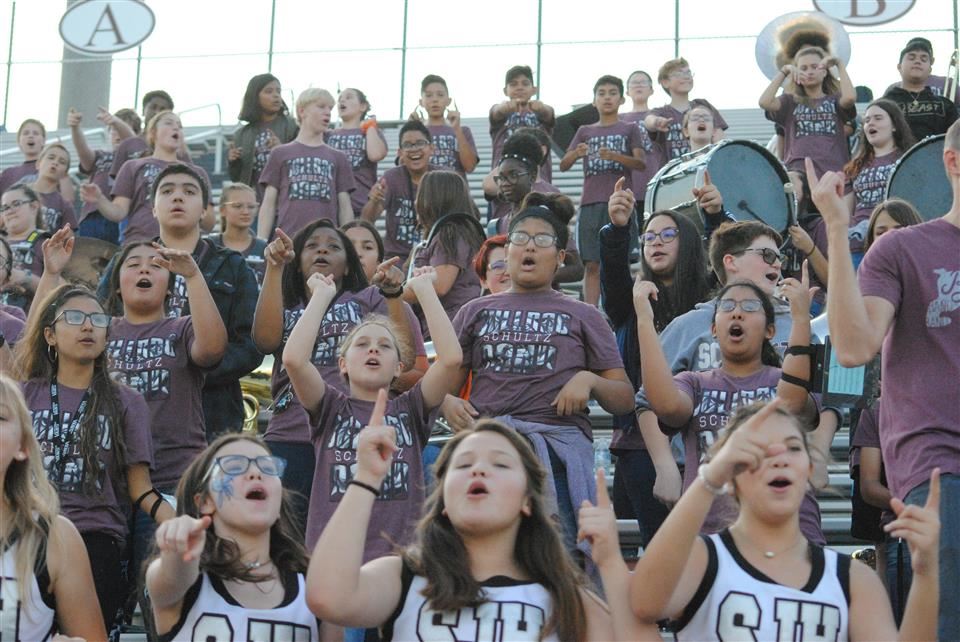 The Schultz Junior High (SJH) Band has broken its record of students qualifying for the All-Region Band. Recently, sixteen students qualified for the honor, which nearly triples the school band's previous record of six qualifiers. Two students, Justus Alexander and Bryan Blankenship, also earned All-District runner-up honors. SJH band members had to compete against almost 1,500 students from the entire region for top ranking and a spot in one of the All-Region bands. The SJH Band is under the direction of Danielle Alice and Matthew Baggerly.
"To put it in perspective, the sport equivalent of making it into the All-Region Band would be being selected to play in an all-star game," Alice said. "I am super proud of these students!"
To make it to All-Region auditions, students have to rank in the top percentile of their respective instrument. For auditions, every student in the region prepares the same two pieces of music, eight major scales, and one full-range chromatic scale. The audition is divided into two phases where students perform for a panel of judges to earn as many points as possible. In the first phase, students are filtered into the top 25 percent and on the second day they are ranked to determine their band and chair placement. On average, the top 20 percent of participants earn a chair in the All-Region band. SJH competes in Region 27 which encompasses all 28 middle schools in Spring Branch, Cy-Fair, Waller, and Brenham ISDs. Congratulations to All-Region Band members:
Justus Alexander, Trumpet, 4th runner-up All-District

Matthew Anweiler, Trumpet, 6th chair Symphonic Band

Bryan Blankenship, Bari Sax, 1st runner-up All-District

Crystal Buck, Percussion, 2nd chair in the entire region, Honors Band

Monica De La Nuez, Flute, 1st chair Concert Winds;

Julian Guzman, Tuba, 5th chair Concert Band

Skylar Jenkins, French Horn, 1st chair Concert Winds

Sury Lopez, Trombone, 9th chair Concert Winds

Stephen McFaden, Alto Sax, 2nd chair Concert Winds

Samantha Palacios, Alto Sax, 3rd chair Concert Winds

Matthew Quintanilla, trumpet, 2nd chair in the entire region, Honors Band

Jesus Rangel, Tenor Sax, 2nd chair in the entire region, Symphonic Band

Stephanie Ruiz, Alto Sax, 1st chair in the entire region, Honors Band

Judith Sanchez, Trumpet, 13th chair Concert Winds

Mariah Servin, Trombone, 4th chair Concert Winds

Kylie Slone, Percussion, 9th chair Concert Band

Daniel Tapia, Euphonium, 3rd chair Concert Band

Dylan Yarbrough, Euphonium, 3rd chair Symphonic Band
Once a part of the All-Region Band, students meet to rehearse with their band for six hours and perform a concert at the end of rehearsal. In school, bands usually rehearse music for six to eight weeks to prepare for a concert. The All-Region bands impressively practice and perform all in the same day. The All-Region Concert will take place on Dec. 7 at Cy-Woods High School at 4 p.m.
"Band teaches many of the same qualities students gain in sports; self-discipline, teamwork, sacrifice, leadership, determination, and the value of a strong work ethic," Alice said. "Band also provides a safe, home-away-from-home where kids create bonds and deep friendships within the band family."
For the past three years, SJH band enrollment has increased by 33 percent. Alice attributes this increase to the band recruiting and retention. When she arrived at SJH, she changed the way students were assigned their instruments to allow them to try as many instruments as possible to find their favorite.
"When the kids make that first sound on the instrument and press the keys, their eyes light up and they're hooked," Alice said. "Having little to no musical experience, sometimes fifth graders are concerned they will not be successful in band, so they're apprehensive to even sign up for the class. Once they try the instruments, they realize every student can play an instrument; they just have to find the one that fits them."
As for retention, Alice believes in a student's natural desire to experience success. The bands have had tremendous success in the past two years, earning Sweepstakes awards and First Division Ratings at UIL Concert and Sight Reading Contests. Though they are working hard, the bands also ensure students are having fun along the way.
"In my career, I've found that kids are willing to work hard when they feel appreciated and are having fun," Alice said. "A perfect illustration of this is the energy we provide at football games. The tremendous amount of work we are putting into supporting the football team and cheerleaders is almost unnoticeable with all the fun we're having."