Return to Headlines
Schultz JH Donates to Homeless Veterans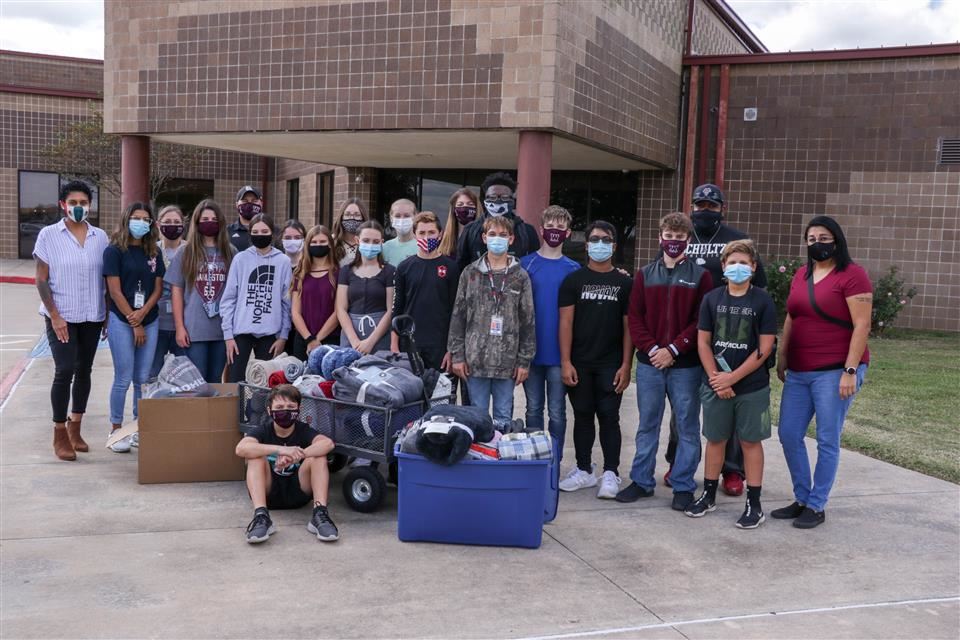 In honor of Veterans Day, Schultz Junior High (SJH) students took up a collection for veterans as one of their community service projects. SJH athletes collected winter items for Cloudbreak Communities (Cloudbreak), an organization that works with homeless veterans and provides transitional services. The drive was led by SJH Coaches Andrew Fork, Stoney Owens, and Jennifer Mueller.
"Being a veteran myself, this is very near and dear to me," Fork said. "The willingness of our athletes to continue projects during a pandemic just speaks to their character and determination."
This is the third year, SJH Athletics has partnered with Cloudbreak. In past years students donated food, clothing, and hygienic products. This year, SJH collected winter items such as socks, hats, gloves, and blankets. To protect the health and safety of veterans, students donated sealed and unopened items.
At SJH, community service is an important part of helping athletes develop skills that will help them once they leave junior high. The foundation is built on three pillars: great students, great athletes, and great community members. Service projects begin with helping their school, but expand to serve their community and county. Their projects range from volunteering to run the school's concession stand to helping at the local animal shelter and Houston Food Bank. In their first year of community service, SJH athletes logged a total of 727 community service hours. Even with COVID-19 interrupting their second year, they completed 1,725 community service hours.
"These athletes are given a gift and we feel it is our duty to instill values that they continue to use to build a bright and positive future for themselves," Fork said.