Return to Headlines
SJH Library Mixes Reading with Art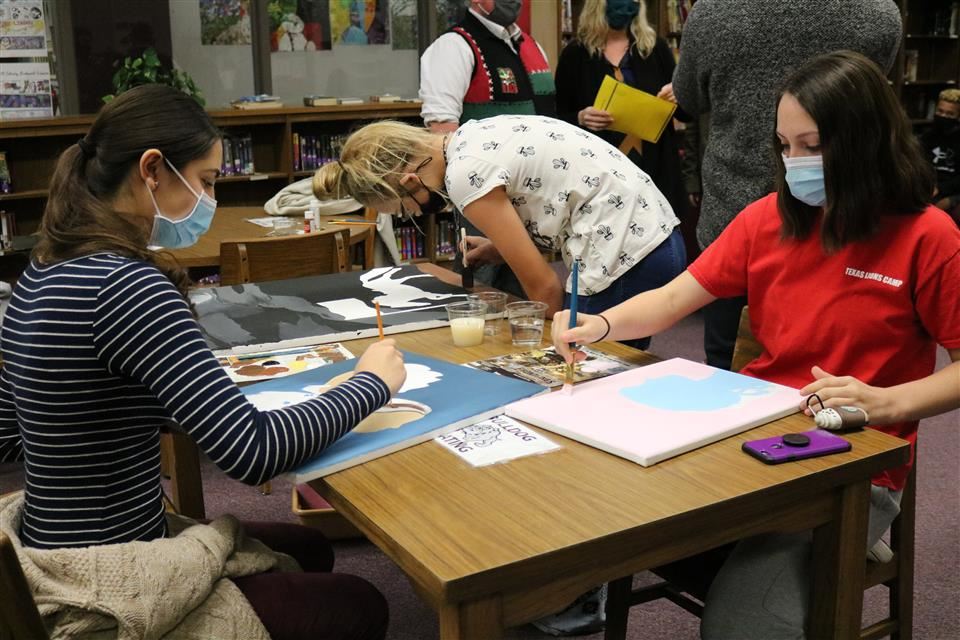 When looking to update the library's decorations, Schultz Junior High (SJH) Librarian Vanessa Ragsdale wanted to incorporate student voice, so she enlisted the help of Assistant Principal Dean Guerra to come up with a way to involve them in the project. Guerra came up with the idea to create a "From Pages to Stages" art contest where students designed and painted artwork for book covers.
"We wanted to do something that gave students ownership of the space," Guerra said. "Now students can come in and see a part of themselves and have that personal connection."
Currently the library holds artwork from former students that was created years ago.
"These paintings are at least 15 years old," Ragsdale said. "It was time to update them with something modern that students can relate to."
To enter the contest, students submitted cover designs for books that have been turned into movies. To be sure as many students as possible were included, the contest was announced for on-campus students over the morning announcements, sent to online students via Google Classroom, and every art class (both online and on-campus) participated. Students had over two weeks to create their initial sketch, which could be an original design or something already created. In the end, there were over 50 submissions. With the help of a panel of teachers, including the art teachers, Ragsdale and Guerra narrowed the choices to 24 winning designs.
"With so many books being turned into movies now, students are discovering so many new books and genres," Ragsdale said. "A lot of them didn't know some movies were originally books and it is amazing to see their excitement."
Winning students visited the library during their advisory class to paint their designs. Ragsdale provided the group with canvases of varying sizes, paint, and brushes. Online student winners were able to pick up their supplies ]and work at home. Art Teacher Corinne Hamzelhoo is also available during advisory to help the students learn how to mix paint and offer advice.
"I was surprised at the range of books students chose for their designs," Guerra said. "It was interesting to see that books like Little Women, Charlotte's Web, and Wizard of Oz are still popular today."
Many students decided to create original designs for books that hold personal meaning to them.
"I chose the book War Horse because my aunt would always read it to me and I grew up loving it," 8th-grade student Skylar Torr said. "I thought it would be a good way to introduce everyone to older books that they don't know about. If my painting catches their attention, they might read the book."
Students will have until the winter break to complete their artwork, after which it will be displayed in the library. Congratulations to winning students:
| | | |
| --- | --- | --- |
| 6th grade: | 7th Grade: | 8th Grade: |
| Lauren Cochrell | Avery Doo | Becky Husfeld |
| Lily Townsend | Ashley Alcantar | Emma Mason |
| Trip Lee & Amori Smith | Rachel Sesmas | Emily Alvarenga |
| Harper Gilbert & Fallyn Jones | Isabel Sanchez & Faith Davis | Giselle Rojas |
| Ian Stafford & Lance Holmon | Samira Salazar Zavala | Emma Nicewarner & William Griffin |
| Laela Hilbun | Heather Bussey | Skylar Torr |
| Abigail Loan | Aven Kee | Benjamin Vargas |
| Britney Carleton | Liliana Rivera | Jayden Perez |