Return to Headlines
Turlington Elementary Learns to Code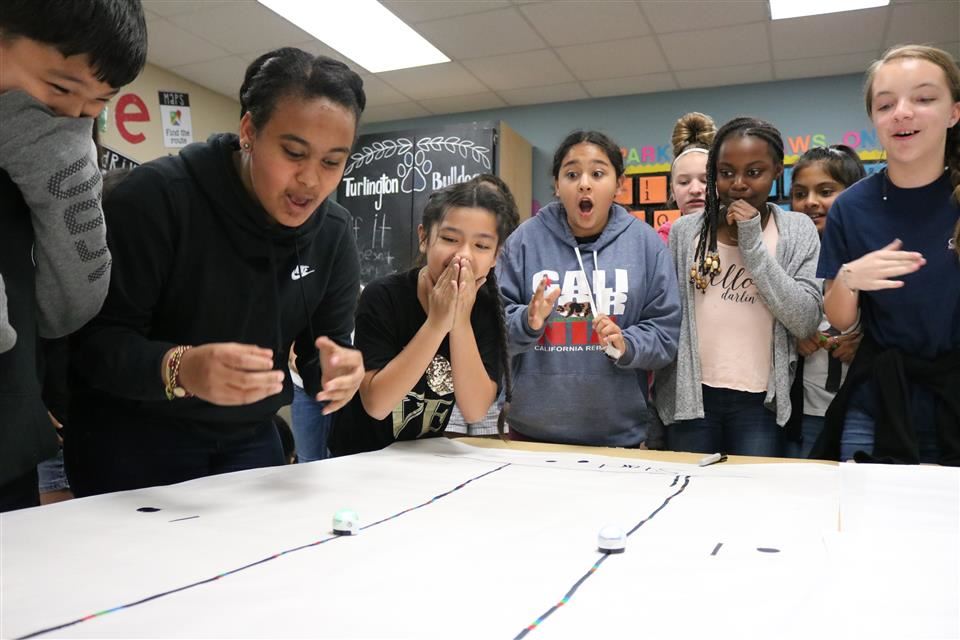 Recently, Turlington Elementary (TES) Technologist Vanessa Goyer recruited some tiny helpers to teach students about coding. Goyer gives an annual lesson on the topic and this year Ozobots were a key feature. Ozobots are small robots designed to teach students basic programming. The developers of Ozobot built the robot with the mission to inspire young minds to go from consuming technology to creating it. Today, over 10,000 schools across the United States use Ozobots.
Students use colored markers and coding sheets to give the Ozobot instructions to follow. If coded correctly, the robots will move along the lines of code smoothly. They were first introduced to TES through the Makerspace program, a designated time where students work on independent learning. While students enjoyed playing with the robots, Goyer noticed they did not know how to properly work them. With this in mind, she got an idea from the Texas Computer Education Association technology conference. Originally a lesson on speed and velocity, she modified it for technology.
"I think that it is crucial for students to learn about coding because technology is so prevalent in today's society and will only continue to expand," Goyer said.
After the lesson, students developed an interest in the robots and expressed how excited they are to use them again. As a fun end to the week, Goyer created Ozobot races for students in third- through fifth-grade. The winning team won a trip to the treasure chest to choose a prize.
"I hope to inspire an interest in coding because it requires critical thinking and reasoning skills," Goyer said. "Those skills, developed correctly, can transfer over to help students understand and think critically in other subjects."
Goyer intends to continue sharing Ozobot lessons so other teachers can eventually incorporate them into their classrooms.