Return to Headlines
WHS Ladies Build Self Confidence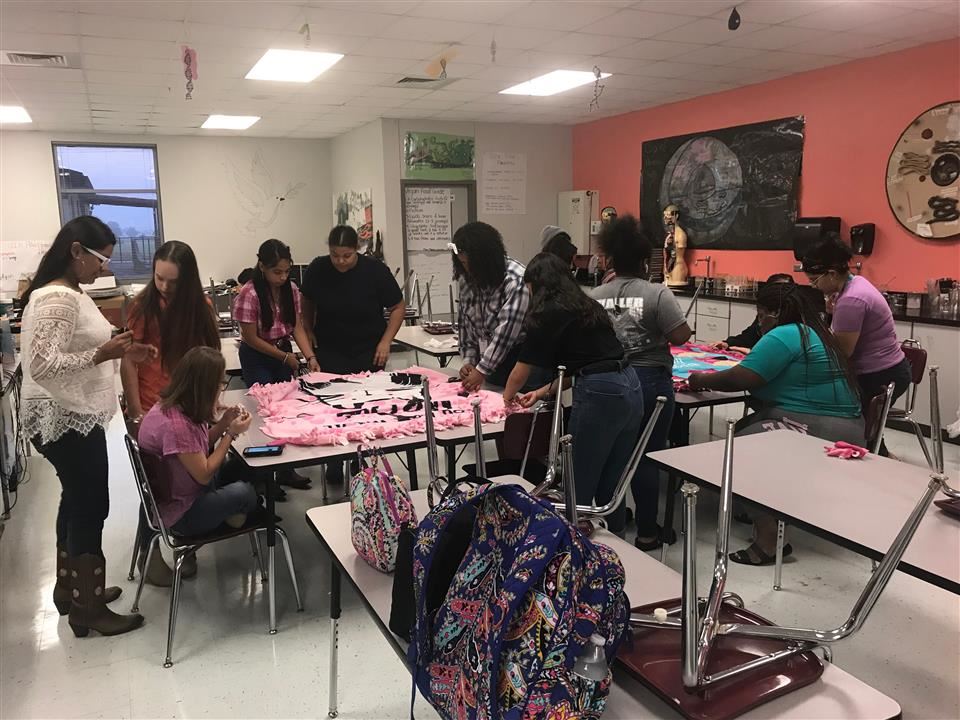 Waller High School (WHS) is empowering female students through its Young Ladies of Excellence (YLOE) Club. Now in its fifth year, the YLOE is an organization designed for young ladies of all ethnicities, socioeconomic statuses, and academic abilities at WHS, to form a cohesive sisterhood that will produce a high standard of self, school, and community. The club is open to all grade levels and meets every Monday during the school's activity period. Sponsor Stephanie Hendrix heads the club along with co-sponsors Samantha Glover, Abigail Arellano, Amanda McLeod, and Karman Berry.
"It is important to have this club as a tool to help enhance every young lady's self-worth and self-esteem as it relates to her tenure at WHS and beyond," Hendrix said.
This year, the YLOE club started with 20 members, but the number is expected to grow as more students learn about the group. For their recent project, YLOE partnered with Waller Baptist Church to build no-sew blankets for girls in Mexican orphanages. The church reached out to Hendrix to inquire if someone would be willing to help them with the project. Hendrix immediately knew the club would be up to the task. Members created blankets with comical designs and messages.
"I pray that they will take from this experience a knowledge that their lives matter, that they have purpose, and to always serve others," Hendrix said.
In past years, YLOE has participated in the Thanksgiving Feast at the George R. Brown Convention Center, spending Thanksgiving Day serving the homeless and those in need. They also adopted a family during the holidays to donate a wish list of needed items for the entire family. Last year, they donated so many items, they filled up the family's car. In the future, YLOE plans to develop a mentoring program with an elementary school and help with the Waller ISD Community Market.