Return to Headlines
WHS Seniors Take Director's Role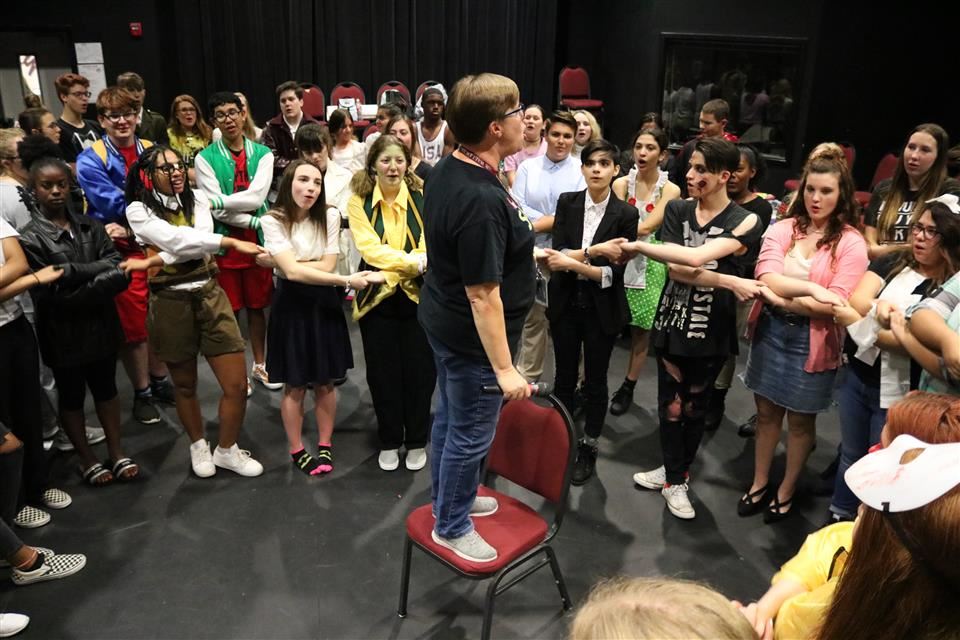 As a rite of passage, ever year Waller High School (WHS) seniors in Theatre Production direct their own one-act play. Theater Director Carrie Wood began this tradition when she first started teaching at WHS over 20 years ago. This year, 13 seniors directed plays in a production titled Scared Silly. As directors, students were put in charge of all aspects of their play.
"This is a huge learning opportunity for seniors. They are given a huge responsibility to pull together all the pieces of the show," Wood said. "For some, this is the next step in a theatre career. For others, it is a valuable leadership skill that translates to almost any other career they may choose."
To be directors, seniors apply for the opportunity, with priority given to seniors who have taken four years of theatre. Students usually submit several options for their play but this year they decided to direct a collection of spooky plays. As directors, they were in charge of conducting auditions, choosing materials, set and costume design, blocking the shows, acquiring all sets, props, and costumes, creating sound effects and designing the lighting. In some cases, seniors were in charge of running the light and soundboards during their plays.
Senior directors were Destiny Monteca, Blaine Wagner, Makenzie Clower, Michaela Dixon-Peltier, Audrey Brady, Hannah Villalobos, Aliya Merchant, Alohilani Ricks, Samuel Bolton, Aynsli Gregg, Alexia Elizalde, Alyssa Sustaita, and Allyson Stiles.
"Many of these students have performed in three senior directed shows before they actually direct their own," Wood said. "You see enormous growth and understanding of the theatre process from these kids."
Also part of the night, Advanced Technical Theatre students created a lobby display. In the past, senior plays happened during December and have a holiday theme. Due to the school musical being held in December, senior plays were moved to earlier giving a Halloween theme to the evening. Students decided to create a haunted house in the auditorium lobby. They worked in teams to design the haunted house and chose the best elements in each group to include.
"A Halloween theme seemed like a natural choice and was a really fun element to add to the night," Wood said.