Return to Headlines
WHS Senior Competes at State FFA Competition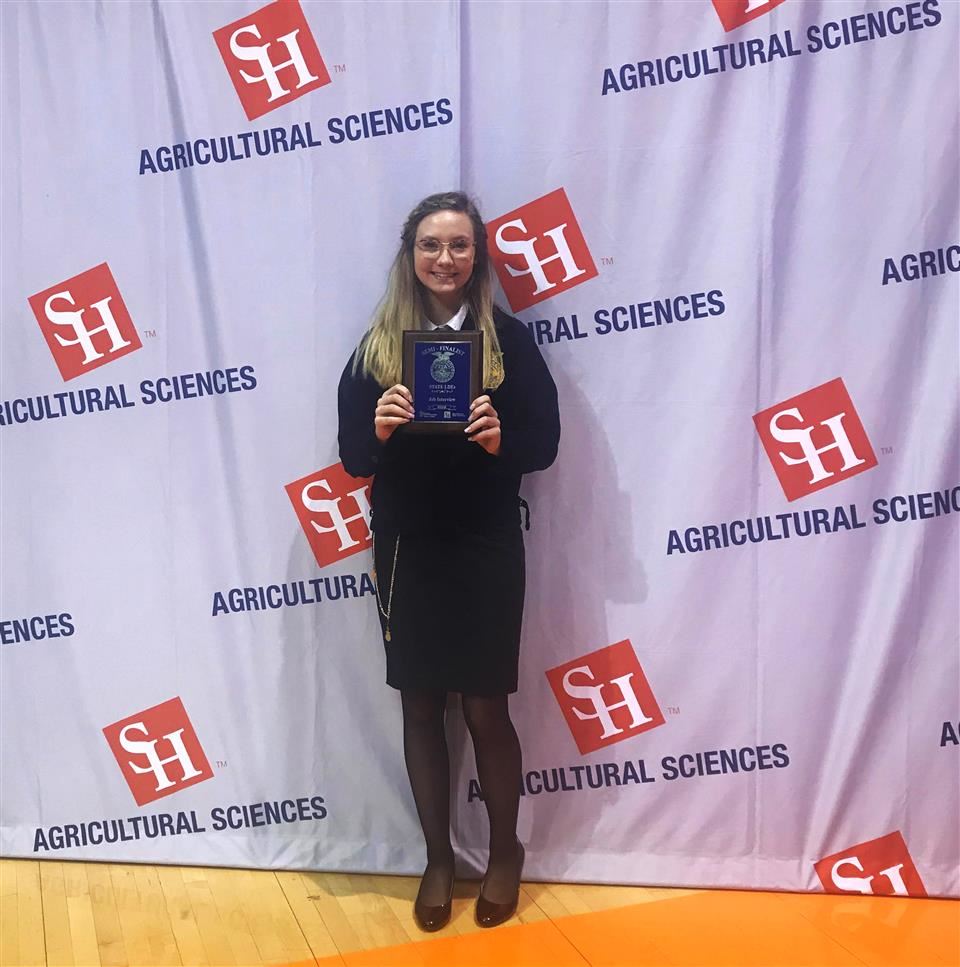 Senior Sayler Schmidt represented Waller High School (WHS) in the Texas FFA State Leadership Development Events (LDE) competition. LDEs focus on creating situations for members to demonstrate their abilities in public speaking, decision making, communication and their knowledge of agriculture and the FFA organization. Schmidt participated in the Job Interview event under the direction of Waller FFA Sponsor Barbie Schmidt. Since freshman year, she has advanced to State in the Agricultural Sales category, this year is her first year qualifying in the Job Interview category.
"In FFA, students have the opportunity to take what is taught in the classroom and apply it to real-world situations. The Job Interview Contest is a true example of preparation for real-life experiences," Barbie Schmidt said. "Everyone will apply for a job someday! The program is very hands-on and practical. FFA teaches premier leadership, personal growth, and career success."
To qualify for State, students have to finish in the top placings in one of the state's 66 District competitions and in one of twelve Area competitions. Schmidt finished third in the District III competition and second in Area XI. Each part of the Job Interview event simulates activities that will be used by real-world employers allowing FFA members to develop, practice and demonstrate skills needed while seeking employment in the agricultural industry. In preparation, Schmidt created and continuously updated cover letters, résumés, and paperwork to use for competitions. She practiced with community leaders and teachers on mock phone and personal interviews and completed follow-up letters.
Schmidt is one of the top 24 Job Interview competitors out of 488 overall who started at the district level. In the Job Interview event, students applied for an agricultural job in which they are eligible for employment using their actual experience. Schmidt applied for a florist position. She created a cover letter and résumé for the position along with completing a timed job application and conducting a phone interview. In the next step, Schmidt participated in a personal interview with a panel of judges and finally construct a follow-up letter referencing the personal interview.
"As an educator, seeing my students succeed makes what we do so worth it. It is our profession to direct and teach our students how to have success in their everyday lives," Barbie Schmidt said. "Some successes are small and some are much greater, however, knowing that we are giving them the skill sets that are necessary to help them create their own success is priceless."