Return to Headlines
WHS Presents 10th Annual Talent Show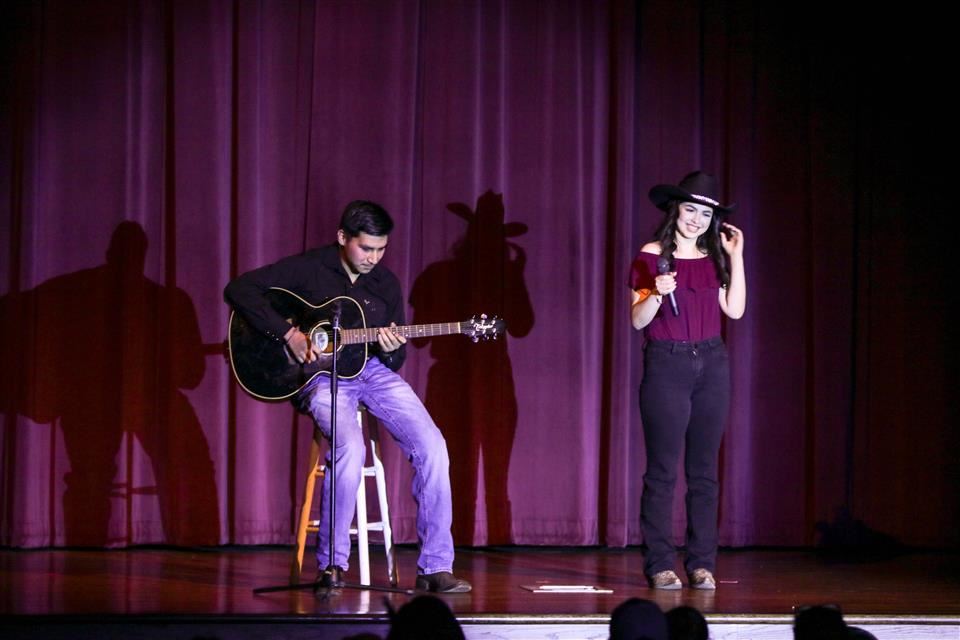 Waller High School (WHS) students recently volunteered to participate in the school's 10th annual talent show, Waller's Got Talent. The talent show is completely organized and produced by Council of International Affairs (CIA) students who lead marketing, ticket sales, routines, and stage management. CIA is sponsored by WHS teacher Daniel Hockaday.
"I'm here for support but I want this to be completely student-led," Hockaday said. "I want students to take charge and responsibility of every aspect of the show."
While the talent show is traditionally CIA's main fundraiser, this year's focus was not about raising money. Hockaday and students decided to hold the show to provide entertainment for students and families.
"This year was about keeping the tradition alive," Hockaday said. "We don't expect to raise much but students love it and this is really for them."
This year's performers were:
Macy Jones -

Driver's License

Avery Ragsdale and Kylie Fridrich - K-pop Dance Performance

Sandra Jimenez and Santiago Valle -

Leña de Pirul

and

Me Gustas Mucho

Skylar Jenkins - Interpretive Dance

Morgan Ramos -

Unintended

Derez Bogan - Dance Performance

Tori Turner - Vocal Performance

Formula Four - Bells Melody
Jimenez and Valle's performance introduced a part of their Hispanic culture, a first for the talent show. Jimenez decided to enter the talent show after wanting to try something different and enlisted the help of Valle. While Jimenez sang, Valle accompanied her on the guitar. Jimenez chose two songs that she felt would help people connect to the culture.
"I wanted to do something different and put a part of my culture out there," Jimenez said. "My father loves to sing and I grew up with that love. It means a lot to me."
Bogan channeled Micheal Jackson with a dance performance to his popular song, Billie Jean. He participated in the talent show his sophomore year and decided to try again his senior year choosing Billie Jean because it is one of Jackson's most iconic songs. Bogan developed his routine by watching Jackson's live performances.
"Micheal Jackson is my biggest inspiration," Bogan said. "I fell in love with his music the year he passed. His music videos were constantly on tv and I remember mimicking his dance moves as a child."